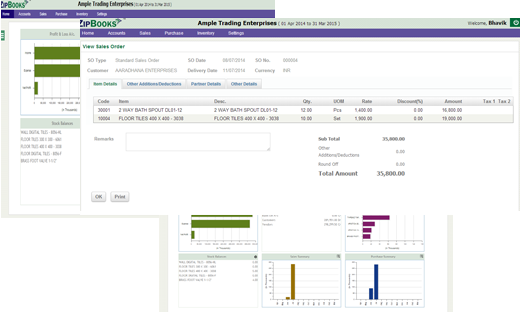 Manage your Sales Orders
Create new sales orders instantly and from anywhere. ZipBooks sales order management facilitates the entry and processing of sales orders for respective products from order entry to consumer invoicing. ZipBooks helps you to maintain all necessary information related to the customer and product data.

You can print the sales order or export to PDF as an when required. ZipBooks provides you real time pending sales order status which enables you to server your customers better.
Buy Now
Try it Free for 30 Days
Sales Deliveries
You can post sales deliveries against pending sales orders or without sales order as required. The sales delivery will allow you to not only capture the customer name and address details but also will record the despatch document number, despatch mode, agent, sales exeutives, shipping party and other required details.

Sales deliveries referenced to the sales orders helps you to track pending deliveries against sales orders.
Buy Now
Try it Free for 30 Days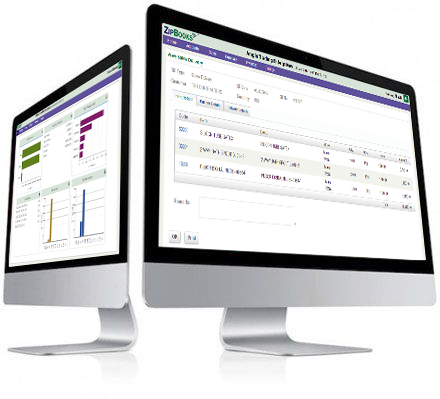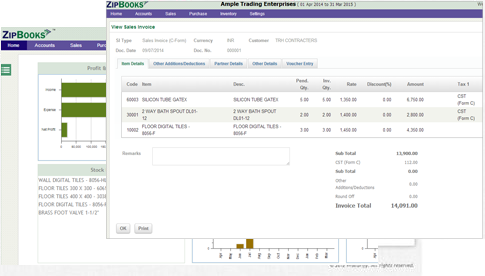 Invoicing
Have real time information of sales invoice from any corner of the world. Generate your sales invoice with reference to your sales delivery.

Create different types of sales invoice like tax invoice, retail invoice, interstate invoice. Invoicing modules makes the entire process of creating and sending invoices to your customers very simple and easy. Generate and send an invoice instantly and automate the entire process.
Buy Now
Try it Free for 30 Days
Build reports with ease
Sales reports generated from ZipBooks will give you an overview of the top selling products, sales revenue generated and many more

The list of reports generated from Sales Module in ZipBooks are as below

Sales Order Register
Sales Delivery Register
Sales Register
Sales Return Register
Credit Note Register
Pending Sales Order
Shipment Status Update
Buy Now
Try it Free for 30 Days