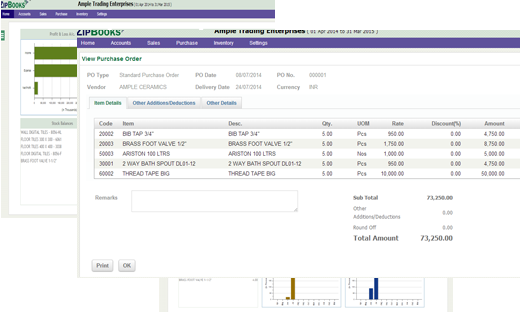 Streamline your procurement processes and manage purchase orders through ZipBooks
Purchase module in ZipBooks streamlines procurement of the required raw material or trading material

It helps to raise Purchase Orders to your vendors. Purchase orders can be created with just few easy steps and are tracked in real time. Capture details like purchase order type, vendor details, quantity of items, rates and tax details etc. The systems allows you to take print of your purchase order or export to PDF.
Buy Now
Try it Free for 30 Days
Track your purchases and remain always updated about the arrival of your stock
Track status of the goods received and pending through goods receipts against Purchase orders or without purchase orders. ZipBooks facilitates you to post instant goods receipts as soon as the items are received by the user againsts the Purchase Order raised. An easy interlinking with the Inventory ensures that as soon as the goods are received it gets automatically updated in the stock ledger and stock summary reports.
Buy Now
Try it Free for 30 Days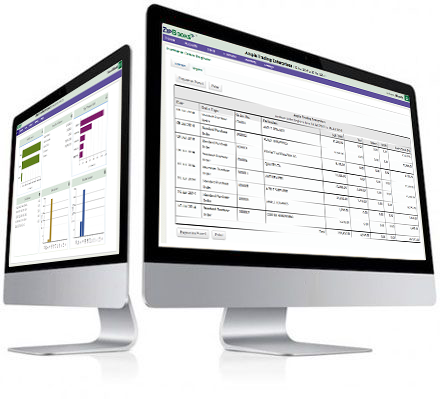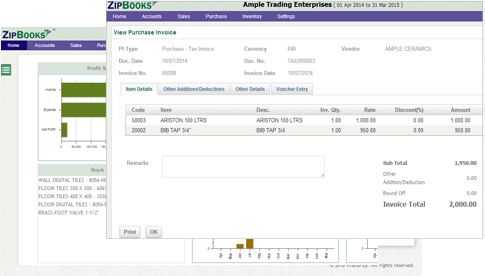 Easily post your purchase invoices
Quickly and easily post purchase invoices based on purchase order and/or goods receipts data. Automatically gets synced with the accounts module as soon the purchase invoice is posted. You can print the posted invoice or export to PDF anywhere and anytime.

Post purchase invoices for different items along with their unit of measure and store location, rate, tax details etc. ZipBooks enables you to avoid duplicate invoicing from vendors.
Buy Now
Try it Free for 30 Days
Track products that are to be returned to the vendor
You can easily keep a record of the purchase return transactions through ZipBooks. It lets you maintain the names of suppliers to whom you are returning the goods.

It captures all the details of the product you are returning along with its delivery details. It also helps you in recording debit notes to the vendor against your returns.
Buy Now
Try it Free for 30 Days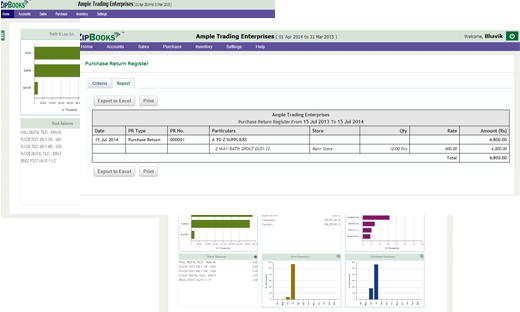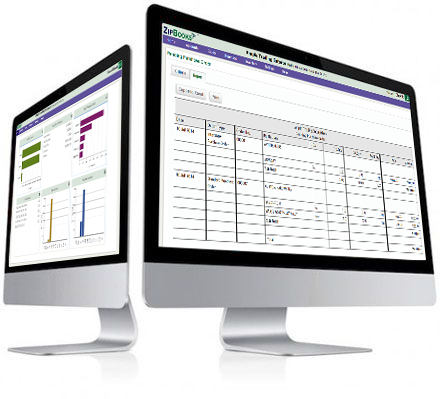 Reports
ZipBooks powerful analytics gives you complete visibility into your entire purchase process. The list of reports that can be fetched from ZipBooks are as below
Purchase Order Register
Goods Receipt Register
Purchase Register
Purchase Return Register
Debit Note Register
Pending Purchase Orders
Pending Forms
Buy Now
Try it Free for 30 Days